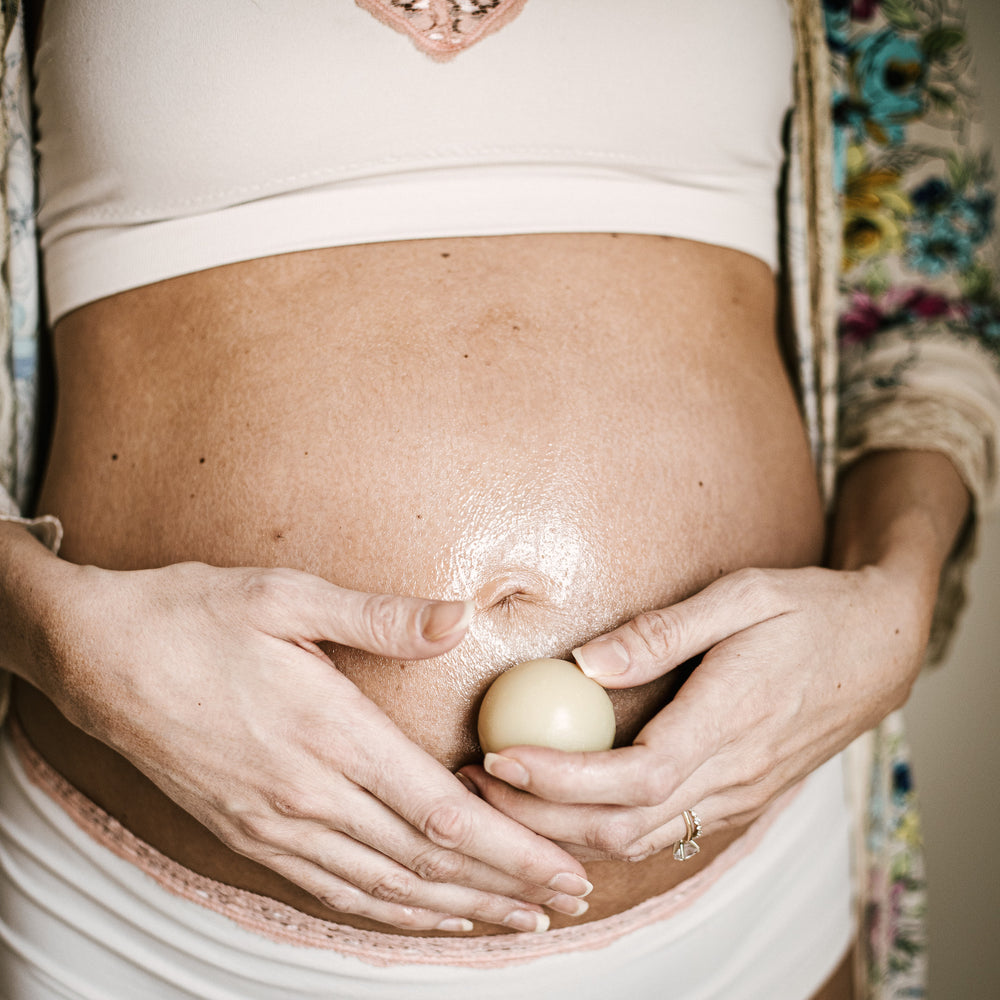 Having been pregnant twice myself, I can say that I've never felt more like a stranger to my own body than I did during those months. Everything changed. My body chemistry was different, ligaments were softening so I had new aches and pains, there was swelling in my legs and feet, morning sickness all day, and insomnia that left me feeling exhausted. 
And. The. Hormones.
Did you know that at 32 weeks pregnant a woman's estrogen and progesterone are higher than they will ever be again? They are around six times higher than normal. And within three days of giving birth those same hormones plummet lower than they will ever be again until menopause! 
Hormones alter how a woman's skin looks and responds to her normal skincare routine. What once soothed now irritates and what was once effective isn't. It's maddening. I remember a trip to Sephora when I was about six-months pregnant; I was desperate. I asked an associate there to help me find a clean moisturizer to soothe my dry face but everything she showed me was unsafe to use while pregnant. I left empty-handed and a little concerned about the products I'd been using for years.
THE BALLM
Now a decade since that trip to Sephora, women are demanding clean personal care and beauty products that are safe to use anytime of life. As consumers, we expect our products to be safe AND effective which is a great way to describe The BALLM products. The BALLM is a ball made with the finest natural, raw ingredients to add clean moisture, heal, protect, and energize your skin.
BALLMS can safely take the place of whatever you currently use to moisturize your body. They work best when applied to clean, warm skin (fresh out of the shower is my favorite time to use them). The BALLM's raw, natural ingredients melt easily to pass through all the layers of your skin, hydrating and nourishing as they go, and enter your bloodstream to promote overall health and wellbeing.  
BALLMS BY THE LAYER
Depending on the specific BALLM, each delivers different benefits to the skin and body systems. For example, all the BALLMS provide rich clean moisture and hydration on top of the skin (on the epidermal layer) with shea butter, cocoa butter, and coconut oil. These ingredients drench dry, irritated skin and provide the benefit of a light sun protection, too. BALLMS also support the epidermal layer in natural healing and cleansing processes. 
Each BALLM contains additional natural ingredients like jojoba, frankincense, patchouli, sandalwood, cedarwood, bergamot, matcha green tea, almond butter, and rose. These ingredients are good for the skin while also delivering health benefits internally as they penetrate all layers of the skin and circulate with the blood to benefit your entire system. For expectant mamas this is especially important since everything that enters your bloodstream makes its way into the umbilical cord blood and circulates through your baby's body, too. 
The Clean Beauty Edit cites a study done by EWG.org where the umbilical cord blood of newborn babies was tested. A staggering 232 toxic chemicals were present in the blood tested; 180 of the chemicals found are known to cause cancer and 217 are known to be toxic to the brain and nervous system.
(Image source: aromaticsciencemadesimple.blogspot.com via Pinterest)
BALLM + PREGNANCY 
And this is where we come back to the baby bump. Most expectant mamas have a list of common concerns and complaints when it comes to how their body is adjusting to pregnancy (and later, to childbirth). And with every complaint they have to consider how the products they use will affect their baby, too. Things like stretch marks, insomnia, joint pain, hormone imbalance, changes in mood, and morning sickness plague the average pregnancy on a daily basis. While it's always recommended to discuss your questions and concerns with a primary care doctor or OBGYN, BALLMS are here to support the body's natural processes for safe, gentle relief.
FIVE WAYS LOBAS SUPPORT YOUR PREGNANCY, BABY BUMP, BIRTH, AND BEYOND.
STRETCH MARKS :
NATIVE

and

FRANK+SHEA

LOBAS are incredible for a belly cream (also, butt/boob/full body🤷🏼‍♀️) to avoid stretch marks. While your body is making room for your baby, give yourself a soothing daily massage in all the right places (ask your SO to reach those places you can't).

Stretch marks happen but

FRANK+SHEA

, and

LAVENDER

can help heal and minimize stretch marks over time. 
SLEEP: 
We know how frustrating it can be to not get the sleep you need during pregnancy. Our

LAVENDER

and

PATCHOULI

LOBAS provide incredible skin hydration and lavender is widely accepted as a natural sleep aid. (tip: get your SO to give you a little 🦶 (or full body 🤷🏼‍♀️) massage every night with the

LAVENDER

or

PATCHOULI

LOBAS to lull you off to dreamland.) *remember to lay on your left side for sleep and massage as your pregnancy progresses; doctors say it's safest there. 
HORMONES:
PATCHOULI

LOBA, as an all-over moisturizer, helps keep your hormones balanced for an overall feeling of wellbeing while simultaneously boosting your libido to keep the home fires burning.  

The hormone balancing effects of the

PATCHOULI

LOBAinclude support for hormonal acne (face, arms, back, etc.). We recommend using it as a mask at night or as a morning moisturizer. Make sure you allow a little extra time to let the moisture and nutrients absorb into your skin before applying makeup.  

PATCHOULI

works great to balance body chemistry and minimize body odor during pregnancy. Plus, it smells yummy. 
MOOD:
PERSONAL CARE:
Perineal laceration (tears) are the most common obstetric injury. It's a laceration of the skin and other soft tissue structures which, in women, separate the vagina from the anus.

FRANK+SHEA

LOBA is a fabulous cream to use on the perineal skin (daily), about 3-weeks before your due date, to create more elasticity in your fragile skin. This can be a hard place to reach during your third trimester so ask you significant other for help (if you're comfortable with that).

If you're breastfeeding, our

NATIVE

LOBA is a fantastic nipple cream to use in place of lanolin (and healthier for both of you). It's deep hydration and moisturizing properties work above and below the surface to keep your extra soft tissues intact without dryness or cracking. You may find that your baby appreciates the taste more than lanolin (yes, it's safe for them to ingest).

 
Pregnancy is uncomfortable; you'll waddle, cry spontaneously, and get a little gassy. But you'll also have nine months of the BEST hair you've ever had, an excuse to eat dessert whenever you want, and there is no substitute for the mama-to-be glow! Stay hydrated, slow down, and treat yourself to a collection of LOBAS designed to support and pamper you in all the right ways and in all the right places. 
LOBAS make beautiful gifts to congratulate a new pregnancy, send love and support when it's needed, and to welcome baby and mama home afterwards. Follow The Lovely LOBA on Facebook, and Instagram for helpful tips, uses, and new products announcements. Welcome to the LOBA family!