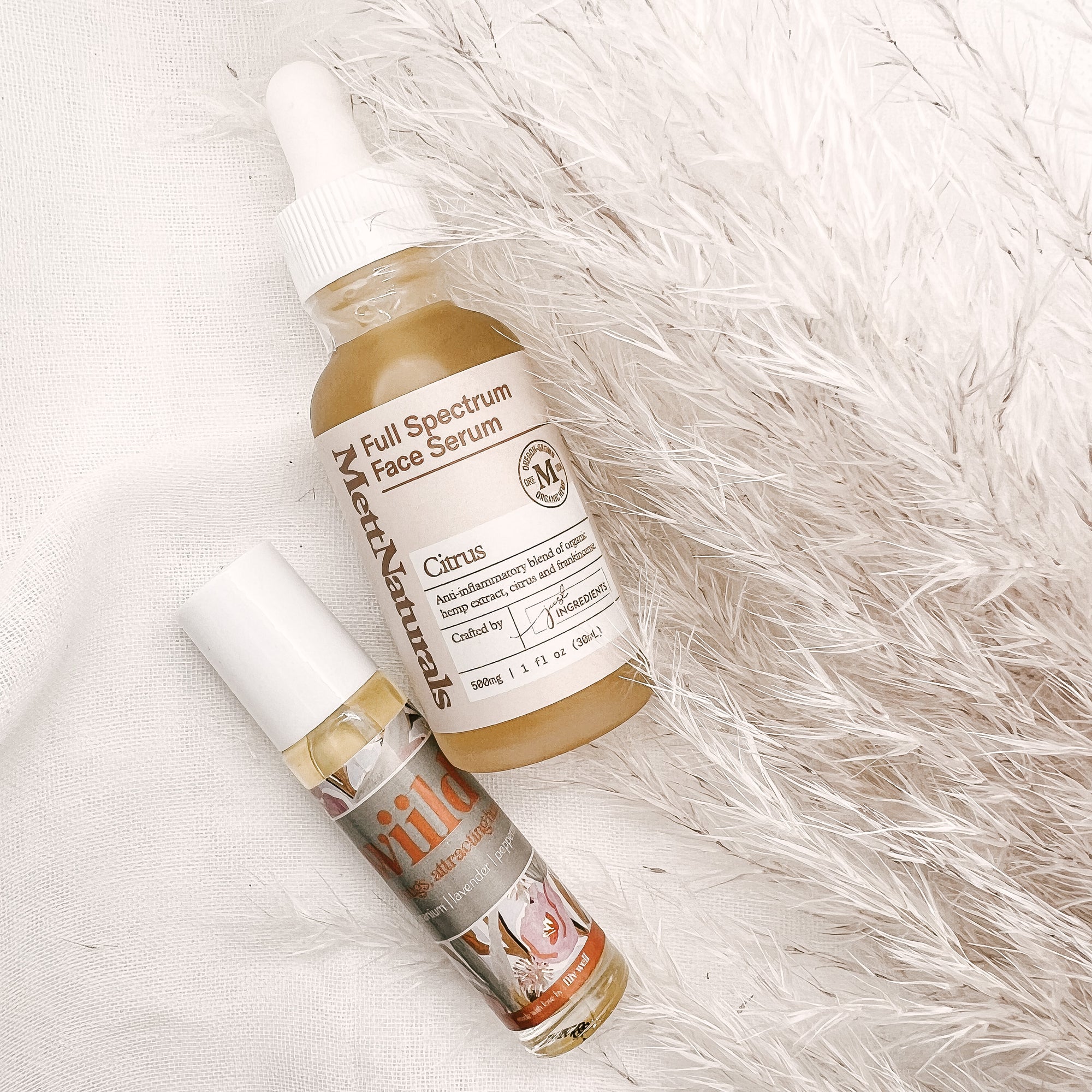 SUBTLE SUMMER SKIN DUO
$59.99 USD $68.99 USD
( / )
Unavailable
Please select all options.
combining our favorite anti-inflammatory facial serum with the most concentrated + deliciously scented big repellant on our market and you have a perfect combination for soft SUBTLE SUMMER SKIN so you can GLOW through all your outdoor adventures this summer.
whether you are at the lake, on a bike ride, hiking in the mountains, or wherever the bugs hang out, hydrate your skin, repel bugs, and as always SMELL FABULOUS!

we partnered with Mett Naturals, to bring you this incredible anti-inflammatory, deliciously scented duo so you can REPEL BUGS AND ATTRACT HUMANS all summer long.
liiv well | Wiild Bug Repellent:
this deliciously scented bug repellent will be your new bestie for all your wiild + wonderful outdoor adventures - repelling bugs, attracting humans.
with potent essential oils swirled though organic jojoba oil and poured into a convenient roller, wiild is easy to take with you on the go. the roller is easy to use, won't get clogged, will leave your skin with a soft glow, and have everyone asking what perfume you're wearing.
organic ingredients: jojoba oil
cptg essential oils: lemongrass, geranium, lavender, peppermint
 10 ml roller

70% active ingredients

100% plant material

vegan, paraben-free, cruelty-free, DEET-free, citronella free, no-sticky residue
Mett Naturals | Full Spectrum Face Serum:
We've collaborated with Karalynne Call of Just Ingredients to formulate this best-selling face serum with Mett Naturals full spectrum hemp CBD extract*. Known for its anti-inflammatory properties, our new citrus CBD serum helps soothe and calm skin. It penetrates the skin more deeply than other moisturizers to prevent signs of aging and balance dry or oily skin. It may reduce scars, wrinkles, acne, blemishes, and is full of anti-bacterial, anti-fungal, and anti-inflammatory properties.

Benefits 

0% THC
Prevents signs of aging
Anti-bacterial and anti-fungal
Balances oily or dry skin
Softens dry skin in the face, hands, feet, and body.
Ingredients
Full Spectrum Cannabidiol (CBD) Extract (CBG, CBN, Terpenes), Organic Jojoba Oil, Organic Frankincense Oil, Organic Essential Oil Blend (Organic Orange Oil, Organic Tangerine Oil)
*Full spectrum hemp CBD extract may contain up to 0.3% THC.